THE SCAMMELL CRUSADER
HISTORY
The first Crusader came off the production line at the Tolpits Lane factory as early as August 1968 and was the last of the "Trunkers" that Scammell produced. It was hailed as "One of the first Super Trucks" being designed for long haul, high speed operations. Maximum reliability and long term economy were high on the list of selling points used in the brochures of the day.
That first Crusader, chassis number WHV(Watford Heavy Vehicles)52001 was a 6x4 tractor unit fitted with the Detroit 8V-71 two stroke diesel. Detroit diesels were to remain an engine option during the production of the Crusader range. This vehicle first showed its face at the Commercial Motor Show at Earls Court, London in the same year.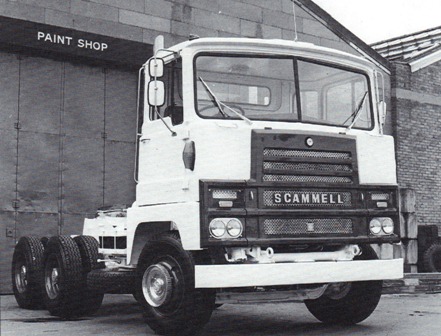 (Picture courtesy of "Scammell. The Load Movers From watford. Nick Georgano ISBN 1-871565-26-x)
From the information that I can find production of the Crusader continued until June 1981 with WHV63223 being the last to leave Tolpits Lane. By anyones standards this was a long production run.
Not all the Crusaders were made at Tolpits with some being assembled at the Guy Motors factory, Fallings Parks, Wolverhampton. This took place from February 1975 and the vehicles made there were prefixed GHV(Guy Heavy Vehicles). They ran from chassis number GHV60001 to GHV61999. Production also ceased there in 1981 and as far as I can ascertain all the GHV Crusaders were 4 x 2 variants.
VARIANTS
As with most Scammell models the Crusader was available in many variants so that it could satisfy the needs of several sectors of the haulage industry as well as fulfilling many differing Military applications. Versatility was the aim of the model when it was first sketched out on the drawing board and this seems to have been succesfully achieved.
WHEEL PLANS
The Crusader range was available as 4 x 2, 6 x 4 and 8 x 4 axle configerations. Although the model is probably best known as a Tractor Unit it was certainly available as a rigid as well. 6 x 4 tippers, cement mixers and recovery vehicles feature in various Scammell brochures and are shown in many books about the Scammell marque that are currently available showing the Crusader as a Rigid, Chassis cab, tipper etc. Whether these were factory built or have been owner / third party modified I honestly do not know and would welcome any further information that anyone has on such vehicles so this section can be updated.
POWER UNITS
Again, Scammell offered differing power units in the Crusader range depending on application and these were sourced from two major suppliers for most of the Crusader range. GM (Detroit) and Rolls Royce. However, a poster advertising the launch of the Crusader in 1968 states that along with the Detroit from GM there would be a cummins V8-903 and an AEC designed Leyland V8 developing 250BHP. I have only come accross the Rolls Royce and Detroit engines so will detail those here.
ROLLS ROYCE
Rolls Royce produced 3 engines that were fitted into the Crusader range, all from the Eagle range and whose specifications are listed below.
Eagle 220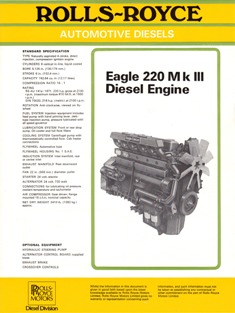 (Click on picture to download a pdf of the RR spec sheet)
12.17 Litre. Normally aspirated. 220 BHP Max. 605 lb.ft Torque
Eagle 280
12.17 litre. Turbocharged. 280 BHP Max. 785lb.ft Torque
Eagle 305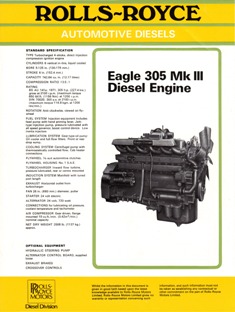 (Click on picture to download a pdf of the RR spec sheet)
12.17 litre. Turbocharged. 305 BHP Max. 856lb.ft Torque
GENERAL MOTORS. DETROIT DIESEL
General motors manufactured the Detroit range of two stroke diesels and as far as I know only one model was fitted to the crusader range
Detroit 8V-71T
8 cylinder (V Formation) Two Stroke. Pressure Charged (Supercharger) 9.3 litre. 305 BHP Max. 800 lb.ft Torque
There is a 6V-71 engine mentioned as being fitted to the crusader range but I am unsure as to the accuracy of this information.
TRANSMISSION
Different size vehicles required diffrent types of gearbox and Scammell seem to have used Fuller as their preffered manufacturer in this department.
Gearbox selection seems to have been dictated by engine size and the standard Crusaders were equipped as follows
4 x 2 Crusader with Rolls Royce 220 MKIII Diesel: Fuller RTO 610 Twin countershaft, range change. 10 Forward speeds (including O/D), 2 Reverse.
4 x 2 Crusader with Rolls Royce 280 MKIII Diesel: Fuller RTO 9509A Twin countershaft, range change. 9 Forward speeds (including O/D), 2 Reverse
6 x 4 Crusader with Rolls Royce 305 MKIII Diesel: Fuller RTO 915 Twin countershaft, range change. 10 Forward speeds, 2 Reverse. Deep Hub Reduction when fitted, such as it is on the Crusader / EKA Recovery Unit giving another 5 Forward speeds and another 1 reverse.
Over and above this the 100 Ton 6 x 4 CR100 Amazon used another Fuller gearbox which was the RTO 12515 Twin countershaft, range change. 10 forward speeds, 2 Reverse. Another 5 Forward and 1 Reverse was available utilising the Deep Hub reduction.